Omega 3 
Sacha inchi 


Produced by cold extraction from

the Amazon nuts of

 
Plukenetia Volubilis.


Sacha Inchi oil has one of the highest levels of plant-based omega 3 & the best natural balance at including Retinol, Vitamin E, and the lowest proportion of Oleic components.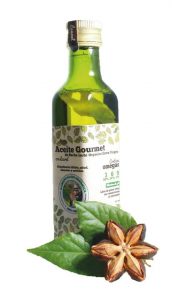 Sacha Gourmet Oil2
Sacha inchi nut oil is extracted by pressing from the seeds and flesh of the fruit of the Plukenetia volubilis, a tree native to the Amazon region.
Sacha Inchi oil has with approximately 50% a very high content of the omega-3 fatty acid alpha-linolenic acid, which makes it a super-food ingredient. Sacha Inchi oil has a very high content of Tocopherols (176–226 mg/100 g) which consists predominately of gamma-Tocopherol (50%) and delta-Tocopherol.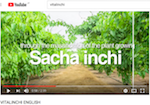 100% Sacha Inchi high-end edible vegetable oil, for culinary purposes transferring the nutritional benefits of the Omegas 3, 6 and 9 of the Sacha Inchi nuts.
Sacha Inchi Basic Oil/Vinegar Salad Dressing
Directions (adjust amounts given in table according to personal taste)
Whisk together vinegar and any additional seasonings or flavorings.
Slowly add olive oil and whisk in. Or, shake all ingredients together in a small jar with a tight lid.
For safety and freshness, serve homemade dressings the same day you make them.
Ingredients
= Balsamic, red wine or white wine vinegar, lemon juice, lime juice or combination of vinegar/orange juice 1 teaspoon or 2 teaspoons
– Salt & freshly ground black pepper to taste
– Sacha Inchi oil 2 tablespoons
Optional Seasonings
– Minced sweet onion 1-1/2 teaspoons to 2 tablespoon
– Dijon-type mustard 1/2 to 1 teaspoon
– Garlic powder or clove of minced garlic
– Dash of garlic powder 1/8 teaspoon powder OR 1 clove,
– Minced Sugar A pinch or 2 OR to taste
– Chopped fresh herbs (e.g. oregano, thyme, tarragon, parsley) 1-1/2 or more teaspoons
サチャインチとは? 日本では「インカインチオイル」とも呼ばれていますが、サチャインチ(グリーンナッツ)という植物を原料とするオイルです。 サチャインチはペルーのアマゾン流域を原産地とする植物で、何千年も前からその地域の人々に親しまれてきました。
栄養豊富で、星形の特徴的な形をした実をつけます。種からはオイルが取れ、種を炒ったり、葉は調理したり、現地の食生活に欠かせない植物です。この サチャインチから作ったサチャインチオイルは、今、話題のオメガ3とオメガ6が豊富に含まれており、美容や健康に良い油として知名度が高まりつつあります。(Investment Video)
サチャインチオイルの研究
インカインチオイルの由来・原産インカグリーンナッツは、ペルーアマゾンの熱帯雨林に分布するトウダイグサ科の蔓性常緑樹です。ペルーでは一般的に「サチャインチ」と呼ばれていますが、学名は「プルケネティア・ボルビリスL.」と言います。「プルケネティア・ポリアデニア」、「プルケネティア・ウアイリャバンババナ」、「プルケネティア・ブラチボトリア」、「プルケネティア・ロレテンシイス」などの近縁の野生種があり、しばしば混同されますが、最も利用価値の高く、現在ペルー国内で一般的に栽培されているのは、「プルケネティア・ボルビリスL.」です。
1989年に、ペルー国立農業技術研究所がインカインチに関する研究に着手しました。その中でブラジル、エクアドル及び、コロンビア国境付近を含むペルー国内を対象にフィールド調査が実施され、52種類のエコタイプ及び品種を収集、その後の研究で8種類が優良品種として選定されています。
詳しくは
http://shizen-life.com/item/inca-inchi-oil/